Nelle ultime ore sta circolando in rete un foglio che sembrerebbe svelare in largo anticipo i match principali della card pensata per WrestleMania 36.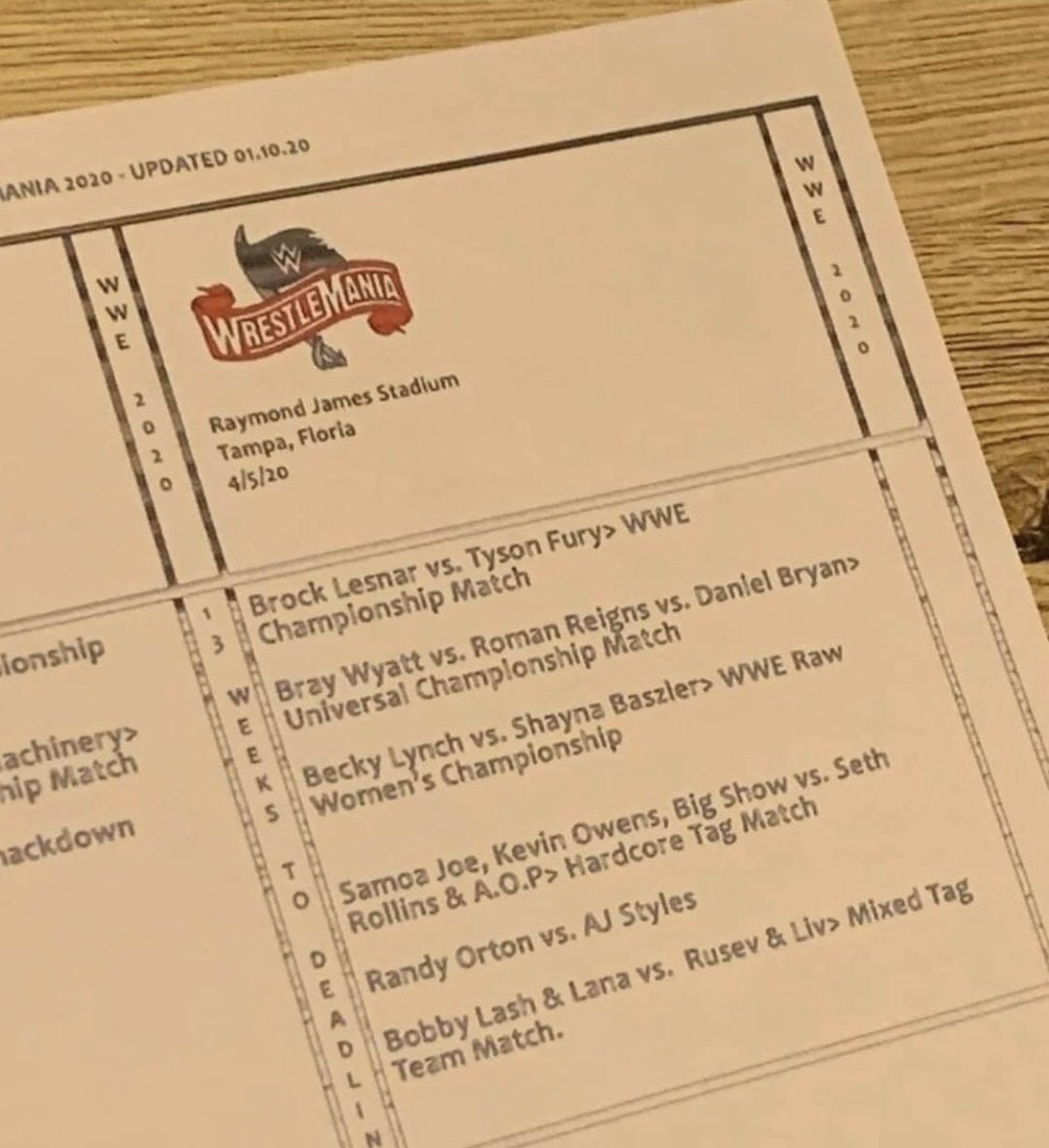 Naturalmente è alta la possibilità che sia un falso: il foglio è stato reso pubblico da un account Twitter che sostiene che la foto sia stata "rubata" senza che la WWE fosse a conoscenza della cosa. Come sappiamo la WWE è molto attena ad evitare che spoiler di tale portata si diffondano, a maggior ragione a diversi mesi di distanza. La card è tuttavia verosimile, ripercorrendo alcune delle storyline attualmente in tv nei programmi della federazione e potrebbe rispecchiare le idee del team creativo riguardo al Grandaddy Of them All.
Uno degli elementi di maggior credibilità sembra dato dall'intestazione del foglio. Stampato con la data di ieri (10 gennaio 2020, ndr), il foglio sembra essere uno di quelli che effettivamente la WWE utilizza per diffondere le idee ai proprio collaboratori man mano che gli eventi come WM si avvicinano. La cosa è nota grazie ad alcuni fogli pubblicati anni dopo da alcuni ex dipendenti della Compagnia. Ecco però che una coincidenza temporale: pochi giorni fa CM Punk ha pubblicato un foglio identico riguardante WrestleMania 30, facendo molto discutere i fan. Seppure la cosa potrebbe far pensare a qualcuno che ha preso spunto per confezionare una bufala, potrebbe trattarsi anche di una semplice coincidenza.
Anche qualora fosse una foto davvero sottratta e che dunque rispecchia realmente le intenzioni della dirigenza di Stamford non è detto che questa sia la card che vedremo allo Showcase Of The Immortals: a oltre due mesi di distanza i piani potrebbero cambiare per alcuni o per tutti gli incontri mostrati.
In ogni caso è inutile sottolineare come spesso a partire da gennaio ci si imbatta in numerose voci infondate o completamente inventate che parlano dell'evento più importante dell'anno, dunque vi invitiamo a prendere queste rivelazioni con le pinze.