Nel corso dell'ultima puntata di SmackDown, Shinsuke Nakamura è incorso in un infortunio alla testa durante il Symphony of Destruction Match che lo ha visto contrapposto a Braun Strowman ed Elias insieme a Cesaro.
Proprio nello spot finale dell'incontro, l'atleta nipponico è stato schiantato dal Monster Among Man con una Powerslam dal tavolo dei commentatori sopra un pianoforte. Nell'impatto – come già evidente nelle riprese al termine dell'incontro – Nakamura si è ferito alla testa, con un taglio che ha perso una discreta quantità di sangue.
Lo stesso Nakamura ieri ha postato sul proprio profilo Instagram le foto dall'infermeria, mentre veniva curato dai medici, scherzando sull'accaduto taggando anche Strowman. The Artist è stato ricucito con 9 punti di sutura. Visto il tono dello stesso Nakamura (e della WWE che ha ripostato una foto) l'infortunio per quanto doloroso non sembra grave e potrebbe anche permettere al giapponese di tornare a lottare nel giro di pochi giorni, ovviamente una volta superati i controlli dello staff medico della federazione di Stamford riguardo agli infortuni alla testa.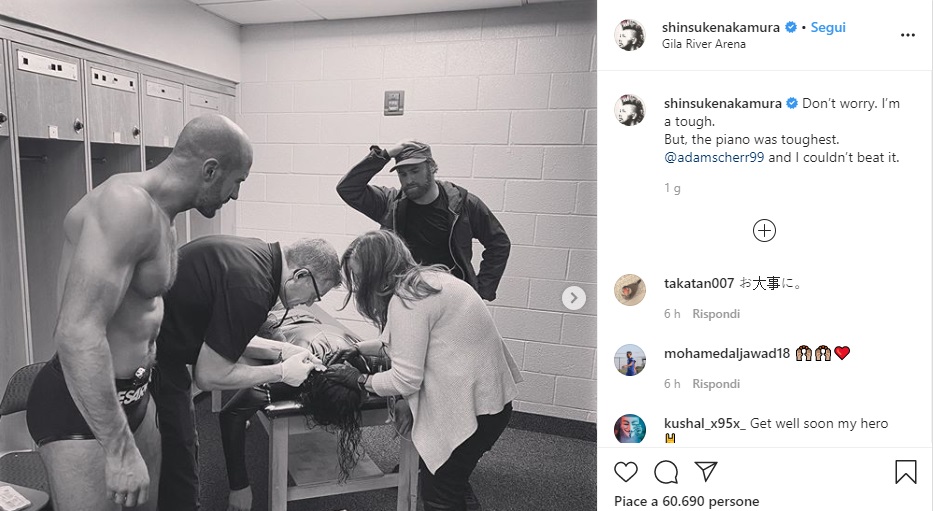 Non preoccupatevi. Sono uno tipo duro. Ma il pianoforte era più duro. Io e Strowman non siamo riusciti a batterlo.