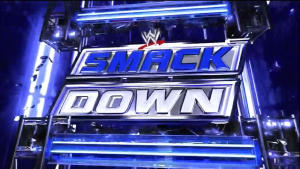 * Randy Orton kicks off SmackDown and comes out with his Money in the Bank briefcase. Damien Sandow's music interrupts and here he comes with his briefcase. Sandow vs. Orton is announced for tonight.
* Sandow vs. Orton is up first. Cody Rhodes is out at ringside for the match. Orton gets the win after Rhodes runs away with Sandow's briefcase. Sandow is distracted and turns around to a RKO for the win.
* CM Punk comes out and talks about his SummerSlam match against Brock Lesnar. Fandango interrupts. Punk ends up laying Fandango out with a GTS in front of Summer Rae.
* Mark Henry and The Usos beat Darren Young, Titus O'Neil and Wade Barrett.
* AJ Lee is shown walking backstage. Still to come, Rob Van Dam vs. Alberto Del Rio.
* Backstage segment with Vickie Guerrero and Alberto Del Rio, who wants to pick his opponent like John Cena did. Rob Van Dam comes in and wants a title shot. Del Rio says he needs to earn it tonight.
* Segment with Damien Sandow looking for his briefcase. He runs into Sin Cara, who speaks no English.
* Alberto Del Rio defeated Rob Van Dam. RVD was distracted and arguing with the referee.
* Sandow runs into Mark Henry and Booker T backstage.
* AJ comes out with Big E Langston. They call Dolph Ziggler out. AJ mocks Ziggler and trashes some of his belongings. Kaitlyn ends up coming out and spears AJ while Ziggler takes out Big E.
* Erick Rowan and Luke Harper defeated Tensai and Brodus Clay. Bray Wyatt cut a promo on Kane after the match.
* Christian vs. Jack Swagger is up next. Christian gets the win after a Killswitch.
* Sandow confronts Vickie Guerrero about his briefcase and is determined to find it tonight. He comes out and offers a reward for its return. Rhodes appears on the big screen and taunts Sandow with the briefcase. Sandow runs off and chases after Cody.
* CM Punk defeated Fandango in the main event.